Gold cream champagne Tennessee Walking Horse gelding, with four fetlocks, star, white mane and tail. Son of of Glen Hope Gold Rush x Poor Boy's Beauty. A grandson of Ebony's Senator, he also carries the blood of Pride Of Midnight HF, Midnight Sun, Pride Of Stanley, Skipper Son Midnight, Go Boy's Lady Ann, and Sun's Delight D. 15.2 hands - well broke - barefoot. Fabulous mane and faery tale looks. Foaled 05/19/2004.
Elizabeth Baldwin and 6 yr old daughter of Las Vegas, NV bought beautiful Ivory In Your Eyes.


Overseas Transport can be arranged.

Reference Photos courtesy of The Ancestor Gallery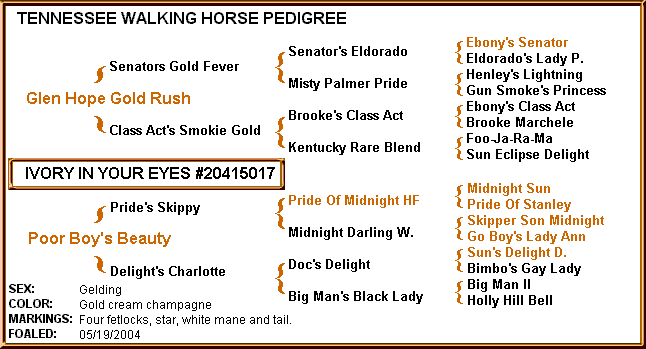 iPeds Production
08/02/10

Horse: IVORY IN YOUR EYES #20415017

Horse No.
Name
Sx
Bl
DN
Foaled
Horse No.
Name